Dr Ian Nnatu, a London-based Private Consultant Psychiatrist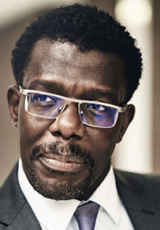 Welcome to my website, I am an experienced consultant psychiatrist with over 20 years experience in mental health. I have been a consultant psychiatrist in the NHS  for over 13 years and my NHS practice is at Charing Cross Hospital, London.
I have expertise in the diagnosis and treatment of a wide range of psychiatric problems including depression, anxiety disorders, stress related disorders and drug and alcohol problems including dependence on prescription drugs such as Xanax.
I am one of a small number of consultant psychiatrists that is also trained in Cognitive Behavioural Therapy. I treat patients holistically and when medication is required this is always a collaborative decision where we carefully explore the risks and benefits of treatment.
I was featured in the 2019 and 2020 Powerlist as one of the 100 most influential black people in the UK.
If you would like to make an appointment to see me or to make further enquiries, please call my private secretary on 020 8920 5626 or you can send an e-mail at: StacyQuinlan@priorygroup.com